| | | |
| --- | --- | --- |
| | | |
| | 5⅔ cups | Cauliflower, raw |
| | ¼ cup | Cream, fluid, light whipping, 30% fat |
| | 8½ tsp | Butter, unsalted |
| | 4 (ea. 0.11 oz) | Garlic, raw |
| | 2 tsp | Rosemary, dried |
| | ¼ cup | Parmigiano Reggiano, Parmesan cheese, grated |
| | 2 pinches | Pepper, black, ground |
| | 2 pinches | Salt, Kosher salt, table salt |
| | 26.34 oz | altogether (view nutrition facts) |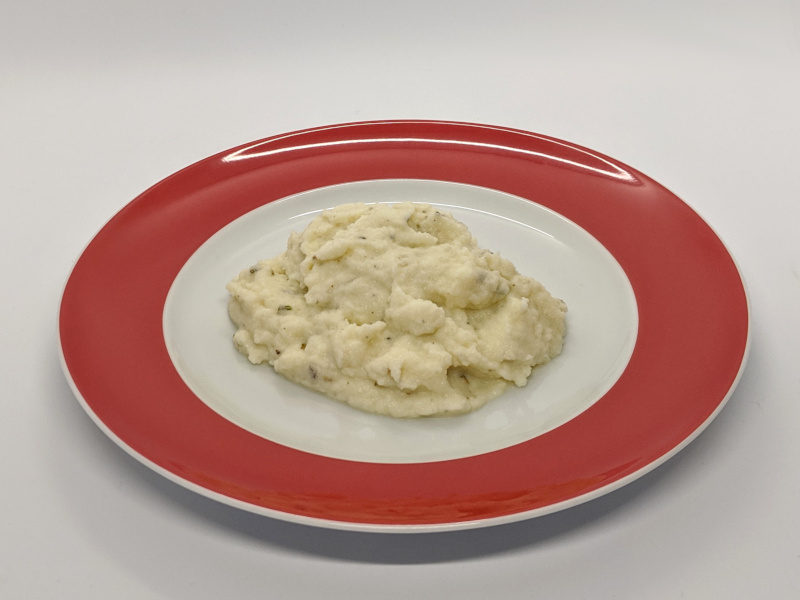 Recipes that use this food
Preparation
Serving size:

½ cup (by recipe creator)

Notes:

sufficient as a side
Break the cauliflower into small florets.
In a pot, bring some salted water to a boil.
Add the cauliflower and cook until it is tender, but does not fall apart, about 10 minutes.
Drain the cauliflower and add it to a food processor.
Melt the butter over medium to low heat and cook the garlic and rosemary until it develops a nice aroma.
Add the garlic butter to the food processor and pulse until the cauliflower has broken down nicely.
Finally, add the cream, parmesan and pepper and blend until you get a smooth mash.
Season to taste and enjoy.
% of calories by macros

| | | | |
| --- | --- | --- | --- |
| Fat | 73.4 % | 94 kcal | 10.7 g |
| Net Carbs | 12.5 % | 16 kcal | 4 g |
| Dietary Fiber | 3.1 % | 4 kcal | 2.2 g |
| Protein | 10.9 % | 14 kcal | 3.7 g |
Saturated Fat

6.6 g

Trans Fat

0 g

Dietary Fiber

2.2 g

Total Sugars

2.3 g

Added Sugar

0 g

Sugar alcohols

0 g
Vitamin A (Retinol Equivalents)

94.7 mcg