| | | |
| --- | --- | --- |
| | | |
| | 3 tbsp | Avocado Oil |
| | ⅓ cup | Jalapeno Peppers, Chili Pepper, Chile, raw |
| | 4 (ea. 0.11 oz) | Garlic, raw |
| | ¼ cup | Onions, white or yellow, raw, chopped |
| | 1 tsp | Cumin seeds, ground |
| | ½ tsp | Chili Powder, spice mix |
| | ½ tsp | Pepper, black, ground |
| | 4¼ cups | Chicken broth, stock |
| | 2⅙ cups 1 tbsp | Tomatoes, raw, chopped |
| | 24.69 oz | Chicken Breast, skinless, raw |
| | 1 cup 2 tsp | Cream cheese, full fat |
| | ⅝ cup | Cilantro, Coriander Leaves, raw |
| | ¼ cup 5⅜ tsp | Lime juice, fresh cold-pressed |
| | ⅜ cup 3¼ tsp | Cheddar, cheese, shredded |
| | 1 (ea. 7.09 oz) | Avocados, raw |
| | 101.13 oz | altogether (view nutrition facts) |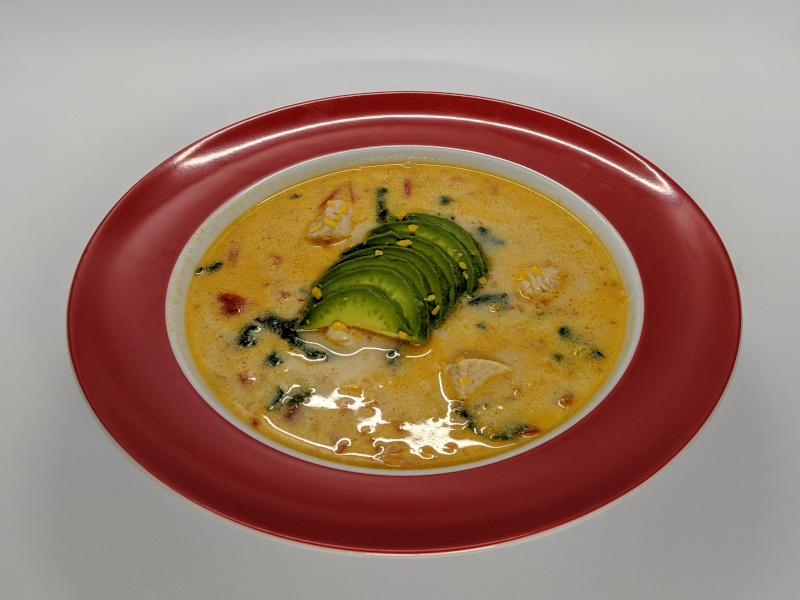 Preparation
Serving size:

Notes:

1 1/2 cups of soup, one soup plate full
In a large pot, heat the oil over medium heat.
Add the deseeded, sliced jalapeno peppers, minced garlic and chopped onion. Cook until the onions soften and turn translucent, about 5 minutes.
Add the spices, stirring to let them develop their aroma, about a minute.
Add the broth and chopped tomatoes. You can also use canned tomatoes instead of fresh ones.
Once the broth has come to a boil, add the chicken breast, cut into bite-sized pieces.
Reduce the heat to low and let simmer for about 5 minutes or until the chicken is cooked through.
Add the cream cheese and stir until it has melted and combined with the broth.
Finally, add the chopped cilantro and lime juice and season to taste.
Serve topped with sliced avocado and shredded cheese.

Meal Prep Tip

You can store the soup in an airtight container, about 5 days in the fridge and up to 6 months in the freezer. For best results, thaw the soup overnight in the fridge and reheat it in the microwave or on the stovetop. Add the cilantro, lime juice, avocado and cheese only after reheating.
% of calories by macros

| | | | |
| --- | --- | --- | --- |
| Fat | 62.4 % | 217 kcal | 24 g |
| Net Carbs | 7.2 % | 25 kcal | 6.3 g |
| Dietary Fiber | 1.4 % | 5 kcal | 2.7 g |
| Protein | 29.0 % | 101 kcal | 25 g |
Saturated Fat

8.9 g

Trans Fat

0.1 g

Dietary Fiber

2.7 g

Total Sugars

3.8 g

Added Sugar

0 g

Sugar alcohols

0 g
Vitamin A (Retinol Equivalents)

153 mcg