| | | |
| --- | --- | --- |
| | | |
| | 5 cups 1 tbsp | Carrots, raw, chopped |
| | 4¼ cups | Milk, whole, 3.25% fat |
| | ¼ cup | Butter, unsalted |
| | ⅝ cup | Sugar, white, granulated |
| | ½ tsp | Cardamom, ground |
| | 3 tbsp | Cashew Nuts, raw |
| | 3 tbsp | Almonds, chopped |
| | 2 tbsp | Raisins, Sultanas |
| | 1 pinch | Saffron |
| | 67.88 oz | altogether (view nutrition facts) |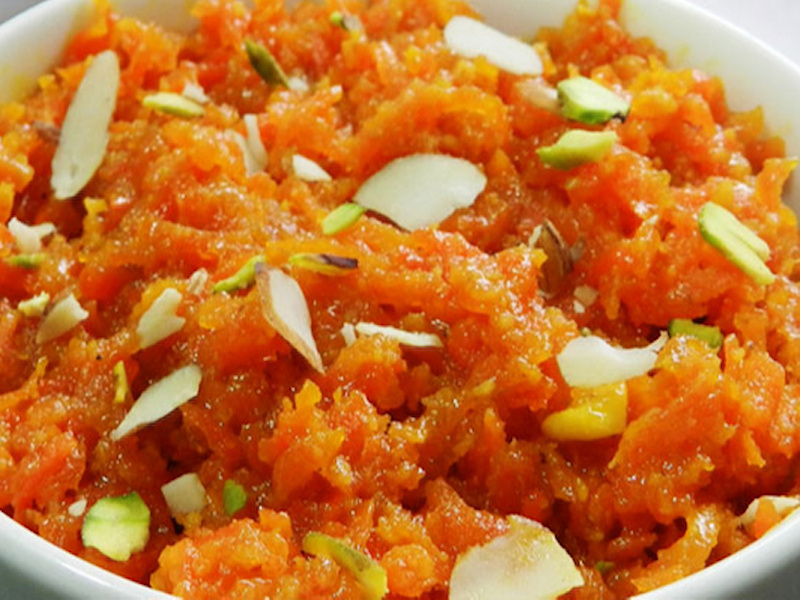 Preparation
1. Wash, peel, and grate the carrots to medium thickness.
2. Add the milk and carrots in a pan.
3. Cook on low heat until all the milk gets absorbed.
4. Add butter/ghee and cardamom powder to pan, and fry for 5 min. Keep stirring.
5. Add the sugar and cook for 5 minutes.
6. Cook on low heat for 15-20 minutes until you see it leaving on the sides.
7. Garnish with chopped cashews, and almonds.
8. Serve warm.
% of calories by macros

| | | | |
| --- | --- | --- | --- |
| Fat | 43.1 % | 150 kcal | 17 g |
| Net Carbs | 45.7 % | 159 kcal | 41 g |
| Dietary Fiber | 2.0 % | 7 kcal | 3.7 g |
| Protein | 9.2 % | 32 kcal | 8.1 g |
Saturated Fat

8.5 g

Trans Fat

0 g

Dietary Fiber

3.7 g

Total Sugars

36.7 g

Added Sugar

20.8 g

Sugar alcohols

0 g
Vitamin A (Retinol Equivalents)

1045.5 mcg