| | | |
| --- | --- | --- |
| | | |
| | 1⅝ cups | Mushrooms, Porcini, Penny Bun, Cep, dried |
| | 3 cups | Vegetable broth, stock |
| | ¼ cup | Butter, unsalted |
| | 3 tbsp | Shallots, raw, chopped |
| | 6½ cups | Mushrooms, Champignon, Crimini, Button, Portobello, raw |
| | ½ cup | Sherry, dry, fortified wine |
| | 1 tsp | Thyme, dried, ground |
| | ½ tsp | Salt, Kosher salt, table salt |
| | 1 pinch | Pepper, black, ground |
| | 1½ cups | Cream, fluid, light whipping, 30% fat |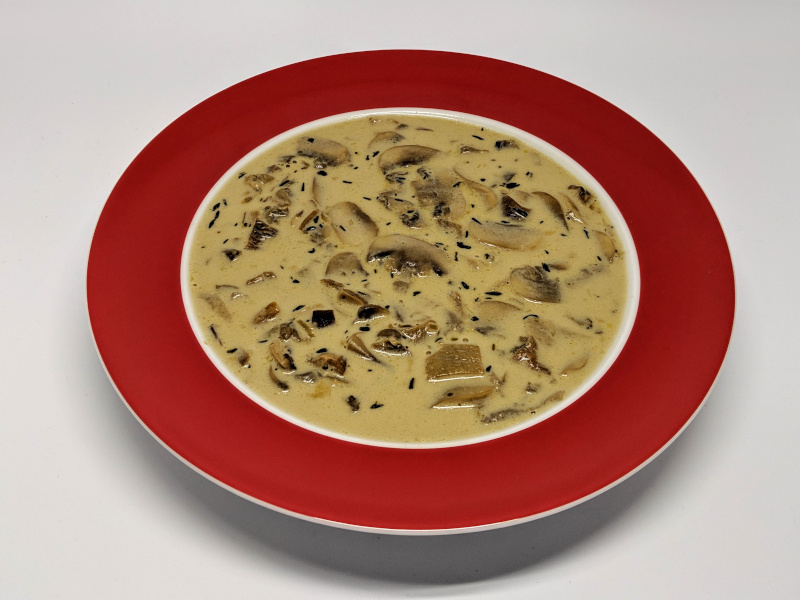 Recipes that use this food
Preparation
Serving size:

1 soup plate full, about 1 3/4 cups
Making the mushroom stock

In a pot, bring the dried porcini mushrooms and vegetable broth to a boil. Remove from the heat and let steep for at least an hour. The longer you let the broth sit, the more the mushroom flavor will intensify.

Preparing the soup

Strain the mushrooms, setting the broth aside for later.
Chop the mushrooms and set aside.
In a large pot over medium to high heat, melt the butter.
Add the shallots and sliced cremini mushrooms.
Cook until the mushrooms have browned nicely, stirring occasionally. This should take about 6 minutes.
Deglaze with the sherry.
After about a minute, add the broth, the chopped porcini mushrooms and the spices.
Bring to a simmer, then add the cream.
Cook for about 5 minutes or until the soup has reached the desired consistency.
Optionally blend the soup.

Meal prep tip

You can store the soup in an airtight container, about 5 days in the fridge and up to 6 months in the freezer. For best results, thaw the soup overnight in the fridge. Then reheat for a couple of minutes in a pot on the stovetop.
% of calories by macros

| | | | |
| --- | --- | --- | --- |
| Alcohol | 5.9 % | 30 kcal | 4.4 g |
| Fat | 74.1 % | 377 kcal | 43 g |
| Net Carbs | 10.0 % | 51 kcal | 13 g |
| Dietary Fiber | 1.6 % | 8 kcal | 4.3 g |
| Protein | 8.4 % | 43 kcal | 11 g |
Saturated Fat

26.6 g

Trans Fat

0 g

Dietary Fiber

4.3 g

Total Sugars

8.3 g

Added Sugar

0 g

Sugar alcohols

0 g
Vitamin A (Retinol Equivalents)

396.3 mcg