| | | |
| --- | --- | --- |
| | | |
| | 4 oz | Chorizo, Spanish pork sausage with paprika |
| | ⅓ cup | Spring Onions, Scallions, Green Onions, chopped |
| | 2 tbsp | Jalapeno Peppers, Chili Pepper, Chile, raw |
| | 1 (ea. 0.11 oz) | Garlic, raw |
| | 4 (ea. 1.76 oz) | Egg, large |
| | ¼ cup | Cheddar, cheese, shredded |
| | 13.72 oz | altogether (view nutrition facts) |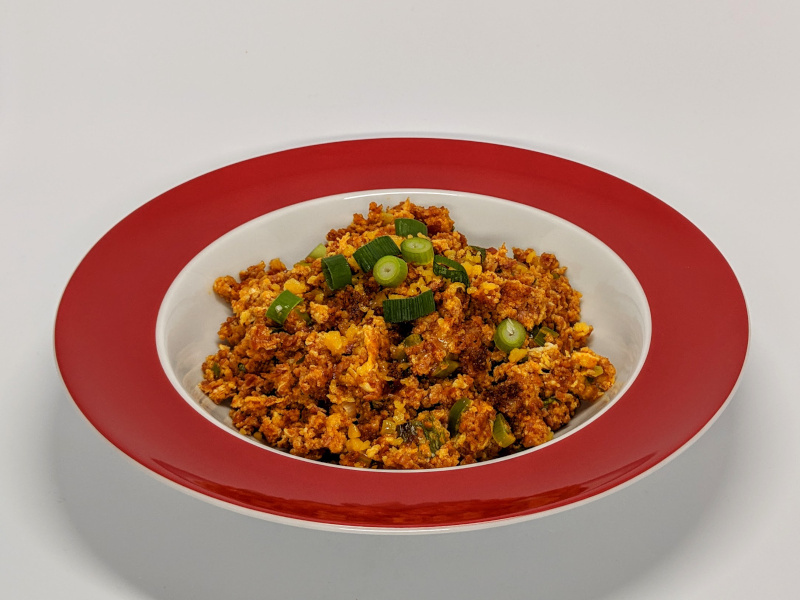 Preparation
Serving size:

Notes:

1 soup plate full, sufficient as a breakfast or small main meal
In a nonstick pan, cook the minced chorizo over a medium to high heat until it browns, about 5 minutes.
Reduce the heat to medium.
Add the scallions (optionally set some aside for garnishing), chopped Jalapeno and chopped garlic and cook for another 3 minutes.
Beat the eggs and add them to the pan.
Let them cook for about 3 minutes, stirring occasionally to scramble them.
Add the cheese, optionally setting some aside for garnishing. Stir well.
Serve, sprinkling the remaining scallions and cheese on top.
% of calories by macros

| | | | |
| --- | --- | --- | --- |
| Fat | 70.4 % | 329 kcal | 36 g |
| Net Carbs | 3.2 % | 15 kcal | 3.7 g |
| Dietary Fiber | 0.2 % | 1 kcal | 0.6 g |
| Protein | 26.1 % | 122 kcal | 30 g |
Saturated Fat

14 g

Trans Fat

0.2 g

Dietary Fiber

0.6 g

Total Sugars

1.1 g

Added Sugar

0 g

Sugar alcohols

0 g
Vitamin A (Retinol Equivalents)

217.8 mcg