| | | |
| --- | --- | --- |
| | | |
| | 5.29 oz | Chocolate, dark, 70% - 85% cacao solids |
| | ⅜ cup 2¾ tsp | Margarine, low fat, non-dairy spread, 35-39% fat |
| | ¼ cup | Sugar, white, granulated |
| | ⅓ cup 2 tbsp | Cane sugar, brown |
| | 1 tbsp | Oil, Grapeseed |
| | 2 tsp | Vanilla Sugar |
| | 1 tbsp | Cocoa powder, unsweetened |
| | 1 tbsp | Baking Powder, leavening agent, double-acting, sodium aluminum sulfate |
| | 1⅜ cups 1 tbsp 2 tsp | Spelt flour, white (type 630) |
| | 20.85 oz | altogether (view nutrition facts) |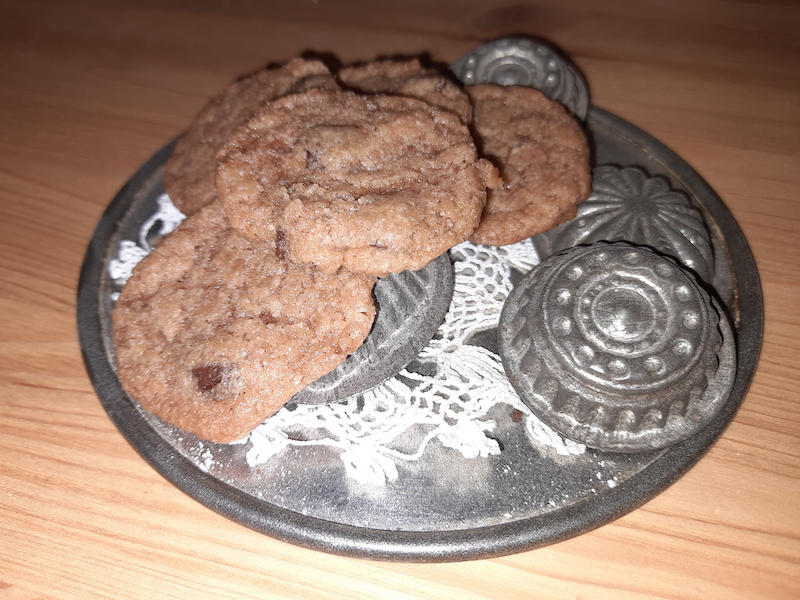 Preparation
Temperature:

302 °F

(for about 10 - 12 minutes)
Roughly chop chocolate, approx. 1 x 1 cm pieces.
Mix the margarine with the 2 types of sugar.
Add all other ingredients and stir.
Fold in chocolate at the end.
Place small piles on the baking paper with a teaspoon and, if necessary, press a little flat with your flat hand.
Don't sit too close together - the biscuits diverge easily!
% of calories by macros

| | | | |
| --- | --- | --- | --- |
| Fat | 42.2 % | 19 kcal | 2.1 g |
| Net Carbs | 51.1 % | 23 kcal | 5.6 g |
| Dietary Fiber | 2.2 % | 1 kcal | 0.4 g |
| Protein | 4.4 % | 2 kcal | 0.6 g |
Saturated Fat

0.9 g

Trans Fat

0 g

Dietary Fiber

0.4 g

Total Sugars

3.5 g

Added Sugar

2.8 g

Sugar alcohols

0 g
Vitamin A (Retinol Equivalents)

23.4 mcg