| | | |
| --- | --- | --- |
| | | |
| | 1 lb | Sausage, Italian pork, raw |
| | ¼ cup | Onions, white or yellow, raw, chopped |
| | 2 (ea. 0.11 oz) | Garlic, raw |
| | 4 cups | Beef broth, stock |
| | 4 cups | Cabbage, green or white, raw, shredded |
| | 1 cup | Celery, raw, chopped |
| | 1 tsp | Oregano, dried |
| | ½ tsp | Pepper, black, ground |
| | 1 (ea. 0.00 oz) | Bay leaf, laurel, dried |
| | 1 cup | Cream, fluid, light whipping, 30% fat |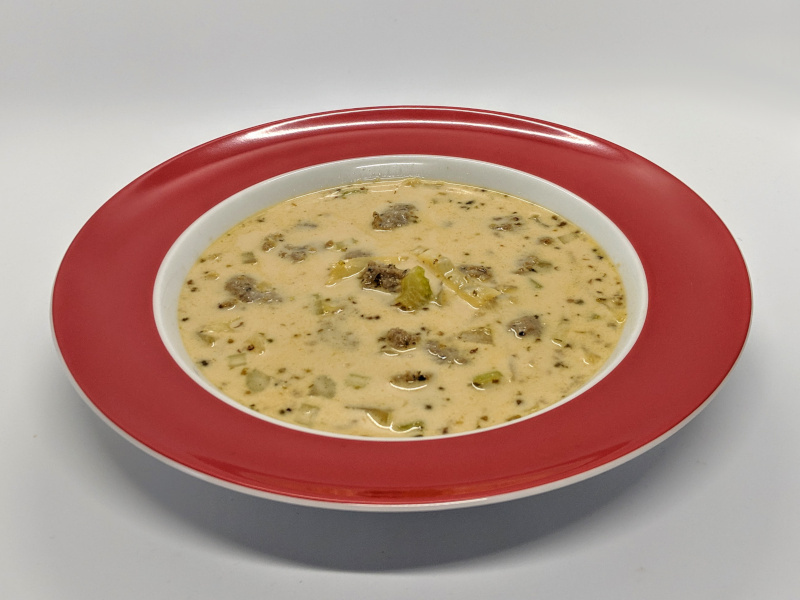 Preparation
Serving size:

one soup plate full, about 1 1/2 cups
In a large pot over medium heat, start browning the sausage meat, about 2 minutes.
Add the chopped onion and minced garlic and continue to cook until the sausage is fully browned and the onion is translucent, about 5 minutes.
Add the shredded cabbage, chopped celery and season with oregano and pepper.
Stir well, then add the broth and bay leaf.
Bring to a simmer, then reduce the heat to low, cover the pot with a lid and let simmer for about 10 minutes. The cabbage should have softened a bit, but still have a little bite.
Remove the bay leaf and add the cream. Bring back to a simmer.
Season to taste.
% of calories by macros

| | | | |
| --- | --- | --- | --- |
| Fat | 81.1 % | 257 kcal | 28.4 g |
| Net Carbs | 4.4 % | 14 kcal | 3.4 g |
| Dietary Fiber | 0.9 % | 3 kcal | 1.3 g |
| Protein | 13.6 % | 43 kcal | 10.8 g |
Saturated Fat

13 g

Trans Fat

0 g

Dietary Fiber

1.3 g

Total Sugars

2.6 g

Added Sugar

0 g

Sugar alcohols

0 g
Vitamin A (Retinol Equivalents)

97.7 mcg