| | | |
| --- | --- | --- |
| | | |
| | ¾ cup 5½ tsp | Margarine, low fat, non-dairy spread, 35-39% fat |
| | ⅞ cup | Sugar, white, granulated |
| | 1⅞ tsp | Vanilla Extract, imitation, no alcohol |
| | 3½ tsp | Baking Powder, leavening agent, double-acting, sodium aluminum sulfate |
| | 1 tbsp | Oil, Canola, Rapeseed |
| | ½ cup 4⅝ tsp | Chocolate, milk, chopped / chips |
| | 1 cup 1 tbsp 1 tsp | Tigernut Flour, ground (chufa, earth almond, yellow nutsedge, atadwe) |
| | 2⅜ cups | Spelt flour, white (type 630) |
| | 2 cups 1 tbsp 1 tsp | Cherries, sour, canned, water pack, drained |
| | 2 tbsp | Water, carbonated, mineral water, club soda, seltzer |
| | 43.46 oz | altogether (view nutrition facts) |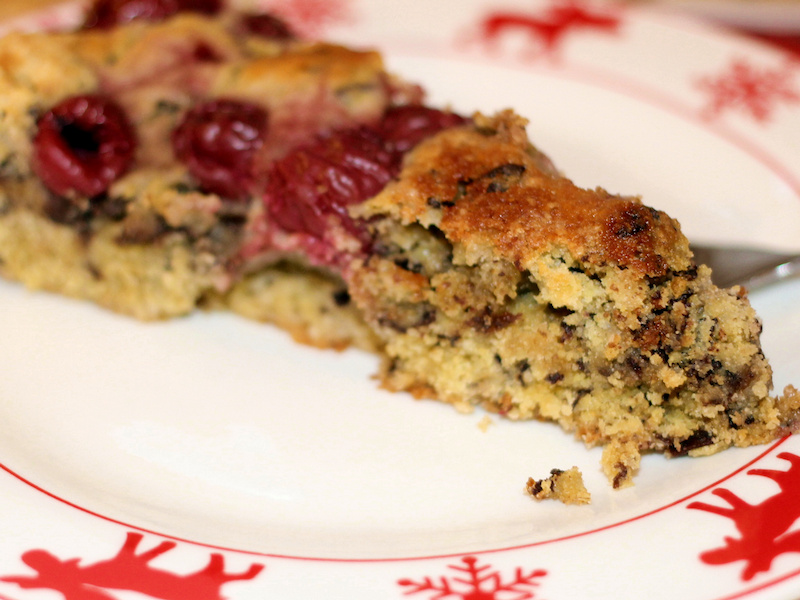 Preparation
Temperature:

392 °F

(ca. 30 Min.)
Mix the margarine with sugar, vanilla sugar, oil and baking powder.
Add the tigernuts, flour and chocolate.
If necessary, add some more mineral water if the dough is a bit too firm.
Pour into a greased, floured springform pan ( 26 cm ), spread the cherries on top and press them in slightly.
Baking time: approx. 30 minutes at 200°C.
Dust with icing sugar after cooling down.
% of calories by macros

| | | | |
| --- | --- | --- | --- |
| Fat | 37.9 % | 110 kcal | 12 g |
| Net Carbs | 55.2 % | 160 kcal | 39.6 g |
| Dietary Fiber | 1.7 % | 5 kcal | 2.6 g |
| Protein | 5.2 % | 15 kcal | 3.8 g |
Saturated Fat

3.5 g

Trans Fat

0.2 g

Dietary Fiber

2.6 g

Total Sugars

22.6 g

Added Sugar

14.6 g

Sugar alcohols

0 g
Vitamin A (Retinol Equivalents)

221.5 mcg