| | | |
| --- | --- | --- |
| | | |
| | 1 tbsp | Coconut Oil |
| | ½ lb | Pork, ground or minced, 16% fat, raw |
| | ⅜ cup 3⅝ tsp | Spring Onions, Scallions, Green Onions, chopped |
| | 4 cups | Cabbage, green or white, raw, shredded |
| | 1½ tsp | Ginger, peeled, raw |
| | 1 tbsp | Chili Pepper, Chile, Pepperoni, red, raw |
| | 1 (ea. 0.11 oz) | Garlic, raw |
| | 8⅝ tsp | Lime juice, fresh cold-pressed |
| | 1 tbsp | Coconut Aminos, Soy-Free Seasoning Sauce, Fermented Sap of Coconut Palm with Sea Salt |
| | 1 tsp | Sesame Oil |
| | 22.82 oz | altogether (view nutrition facts) |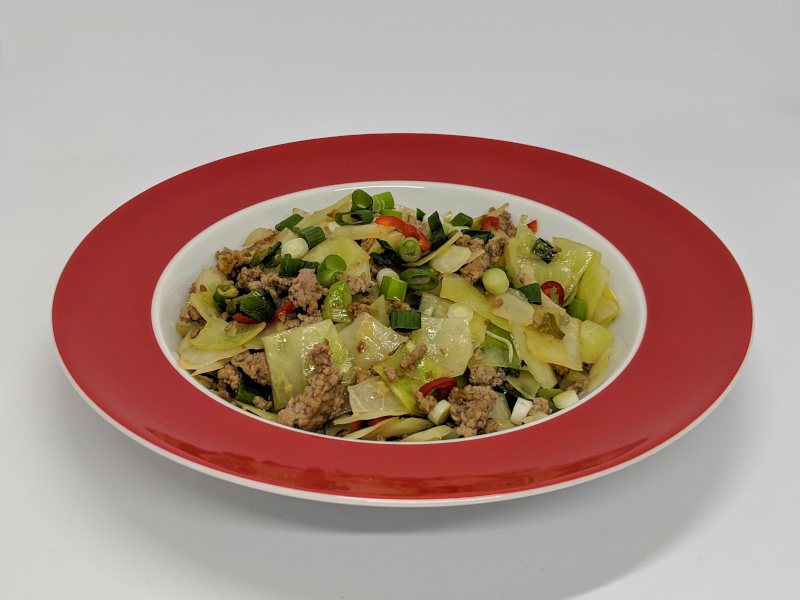 Preparation
Serving size:

Notes:

2 cups, sufficient as a main meal
In a large pan, heat the coconut oil over medium heat.
Add the ground pork and brown it, about 5 minutes.
Chop the cabbage.
Add the cabbage to the pan and cook until it starts to soften and wilt, about 10 minutes.
Grate the ginger. Slice the spring onions. Set aside some spring onions for garnishing.
Deseed and slice the chili pepper. Mince the garlic.
Add the remaining vegetables and cook for about 2 minutes.
Season with lime juice and coconut aminos. If you don't have coconut aminos, you can also use soy sauce. In that case, reduce the amount to about 1/3 so that the dish doesn't get too salty.
Finally, stir in some sesame oil and serve topped with the remaining spring onions.

Meal Prep Tip

Store in an airtight container for up to 3 days in the fridge or up to 6 months in the freezer. Reheat in the microwave, then add the sesame oil and spring onions.
% of calories by macros

| | | | |
| --- | --- | --- | --- |
| Fat | 63.4 % | 246 kcal | 27.4 g |
| Net Carbs | 10.8 % | 42 kcal | 10.5 g |
| Dietary Fiber | 2.3 % | 9 kcal | 4.3 g |
| Protein | 23.5 % | 91 kcal | 23 g |
Saturated Fat

11.6 g

Trans Fat

0.1 g

Dietary Fiber

4.3 g

Total Sugars

7.1 g

Added Sugar

0 g

Sugar alcohols

0 g
Vitamin A (Retinol Equivalents)

20.9 mcg