For the dough

1½ cups 1 tbsp 1 tsp

Wheat flour, white, pastry flour

½ cup 1 tbsp 1 tsp

Cocoa powder, unsweetened

½ tsp

Baking Soda, leavening agent

½ cup

Sugar, white, granulated

½ cup

Cane sugar, brown

½ cup ⅜ tsp

Butter, unsalted

¼ cup

Peanut Butter, smooth, no salt or sugar added

1 tsp

Pure Vanilla Extract, 35% alcohol by volume

1 (ea. 1.76 oz)

Egg, large
For the filling

¾ cup

Icing sugar, confectioner's sugar, powdered sugar (unsifted)

¾ cup

Peanut Butter, smooth, no salt added

34.27 oz

altogether (view nutrition facts)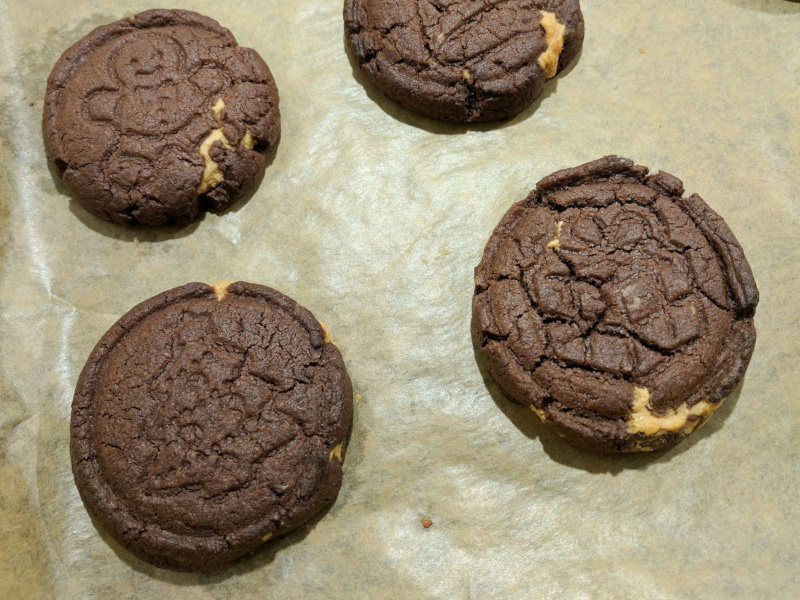 Preparation
Temperature:

356 °F

(preheated)
The dough

Combine the flour, cocoa powder and baking soda.
Whisk together the softened butter, sugar and the peanut butter.
Add the egg and the vanilla extract to the wet ingredients.
Mix the wet and dry ingredients and whisk until you get a smooth dough.

Baking the cookies

For the filling, whisk together the icing sugar and the peanut butter.
Form peanut butter balls with a diameter of about 2 cm or 3/4 in.
Now flatten about 1 tablespoon of the chocolate dough and cover the peanut butter with it. Make sure to seal it as well as possible.
Flatten the balls and put them on a baking tray lined with baking parchment.
Bak for 7 to 9 minutes. The cookies should have hardened, but still be easy to tear apart.
% of calories by macros

| | | | |
| --- | --- | --- | --- |
| Alcohol | 0.5 % | 1 kcal | 0.1 g |
| Fat | 47.3 % | 86 kcal | 9.9 g |
| Net Carbs | 42.3 % | 77 kcal | 19.8 g |
| Dietary Fiber | 1.6 % | 3 kcal | 1.7 g |
| Protein | 8.2 % | 15 kcal | 4 g |
Saturated Fat

3.7 g

Trans Fat

0 g

Dietary Fiber

1.7 g

Total Sugars

13.4 g

Added Sugar

12.3 g

Sugar alcohols

0 g
Vitamin A (Retinol Equivalents)

36.2 mcg