| | | |
| --- | --- | --- |
| | | |
| | 1 (ea. 4.20 oz) | Bell pepper, sweet, red |
| | 4 oz | Sausage, Italian pork, raw |
| | ¾ cup 1 tbsp | Mushrooms, Champignon, Crimini, Button, Portobello, raw |
| | 2 (ea. 1.76 oz) | Egg, large |
| | 1 tbsp | Cream, fluid, light whipping, 30% fat |
| | ¼ tsp | Salt, Kosher salt, table salt |
| | 1 pinch | Pepper, black, ground |
| | 1 pinch | Chili Powder, spice mix |
| | ¼ cup | Parmigiano Reggiano, Parmesan cheese, grated |
| | 15.26 oz | altogether (view nutrition facts) |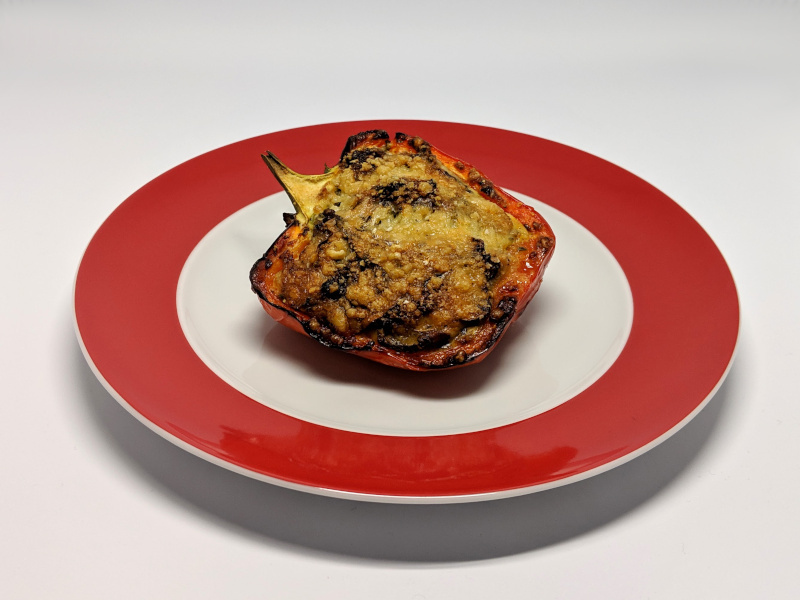 Preparation
Serving size:

Notes:

1/2 bell pepper stuffed; sufficient as a breakfast; make 2 servings per person for a main meal

Temperature:

400 °F
In a pan, brown the sausage meat until it caramelizes, about 5 minutes.
Slice the mushrooms and add them to the pan. Cook for another couple of minutes.
Half the bell pepper and remove the seeds and ribs.
Whisk the eggs and cream together and season to taste.
Fill the bell pepper with the mushrooms and meat and top with the egg and cream mixture.
Top with parmesan cheese.
Bake for about 30 minutes or until the egg has set and the cheese has browned.

Meal prep tip

You can put the baked bell peppers in an airtight container and store it in the fridge for up to 5 days, or freeze for up to 6 months. You can reheat the dish either in the microwave or in the oven.
% of calories by macros

| | | | |
| --- | --- | --- | --- |
| Fat | 72.8 % | 271 kcal | 29.7 g |
| Net Carbs | 4.6 % | 17 kcal | 4.1 g |
| Dietary Fiber | 0.8 % | 3 kcal | 1.6 g |
| Protein | 21.8 % | 81 kcal | 20 g |
Saturated Fat

12.2 g

Trans Fat

0 g

Dietary Fiber

1.6 g

Total Sugars

3.6 g

Added Sugar

0 g

Sugar alcohols

0 g
Vitamin A (Retinol Equivalents)

249.7 mcg