| | | |
| --- | --- | --- |
| | | |
| | ¾ cup 2⅝ tsp | Tofu, raw |
| | 1⅔ cups 1 tsp | Vegetable broth, stock |
| | ⅚ cup ⅝ tsp | Coconut Milk, canned |
| | 1 (ea. 4.20 oz) | Bell pepper, sweet, red |
| | 1 (ea. 1.59 oz) | Chili Pepper, Chile, Pepperoni, red, raw |
| | ⅚ cup 1 tsp | Mushrooms, Champignon, Crimini, Button, Portobello, raw |
| | 2 (ea. 0.11 oz) | Garlic, raw |
| | 1 tbsp | Ginger, peeled, raw |
| | 1 tbsp | Tamari, Japanese soy sauce, gluten-free |
| | 1 tsp | Lime juice, fresh cold-pressed |
| | ½ cup | Cilantro, Coriander Leaves, raw |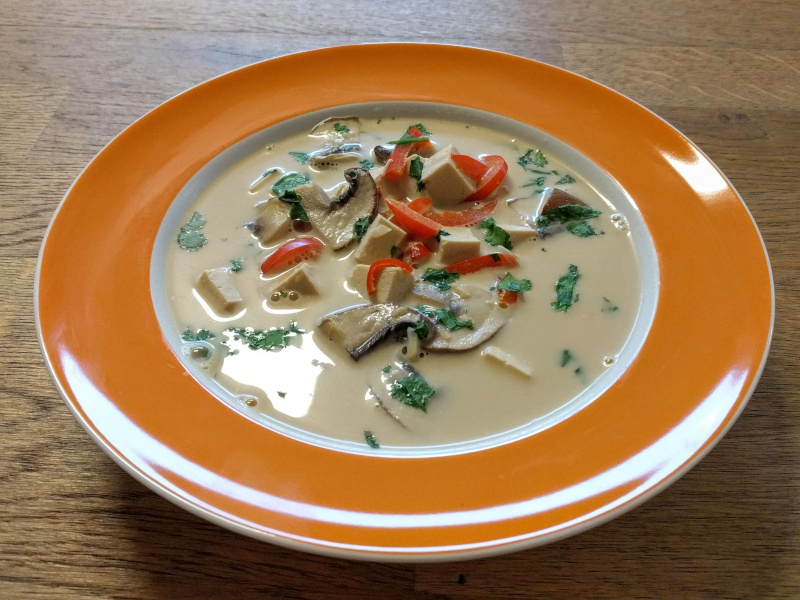 Preparation
Serving size:

1 soup plate full
Drain the tofu, then slice it and wrap it in some absorbent towel. Weight it down with some pots.
Bring the vegetable stock and coconut milk to a boil.
Slice the bell pepper, chili pepper, mushrooms, chop the garlic and chop or grate the ginger.
Add the vegetables to the soup and simmer for about 5 minutes.
Add the tofu and simmer for another 5 minutes.
Remove from the heat and dd the tamari, lime juice and chopped cilantro.
Stir well and serve.
Tip: You can also crisp up the tofu before adding it by frying it in some toasted sesame oil before adding it to the soup.
% of calories by macros

| | | | |
| --- | --- | --- | --- |
| Fat | 67.8 % | 145 kcal | 17.2 g |
| Net Carbs | 15.0 % | 32 kcal | 8.5 g |
| Dietary Fiber | 1.4 % | 3 kcal | 1.7 g |
| Protein | 15.9 % | 34 kcal | 9.1 g |
Saturated Fat

12.6 g

Trans Fat

0 g

Dietary Fiber

1.7 g

Total Sugars

4.8 g

Added Sugar

?

Sugar alcohols

0 g
Vitamin A (Retinol Equivalents)

92.7 mcg