| | | |
| --- | --- | --- |
| | | |
| | 1 cup 1 tbsp 2 tsp | Butter, unsalted |
| | 1 cup | Sugar, white, granulated |
| | 2 tsp | Vanilla Sugar |
| | 4 (ea. 1.76 oz) | Egg, large |
| | 2½ cups | Wheat flour, white, pastry flour |
| | 1 tbsp | Baking Powder, leavening agent, low-sodium |
| | 1⅔ cups | Hazelnuts, filberts, ground |
| | 3 (ea. 4.16 oz) | Bananas, peeled |
| | 51.23 oz | altogether (view nutrition facts) |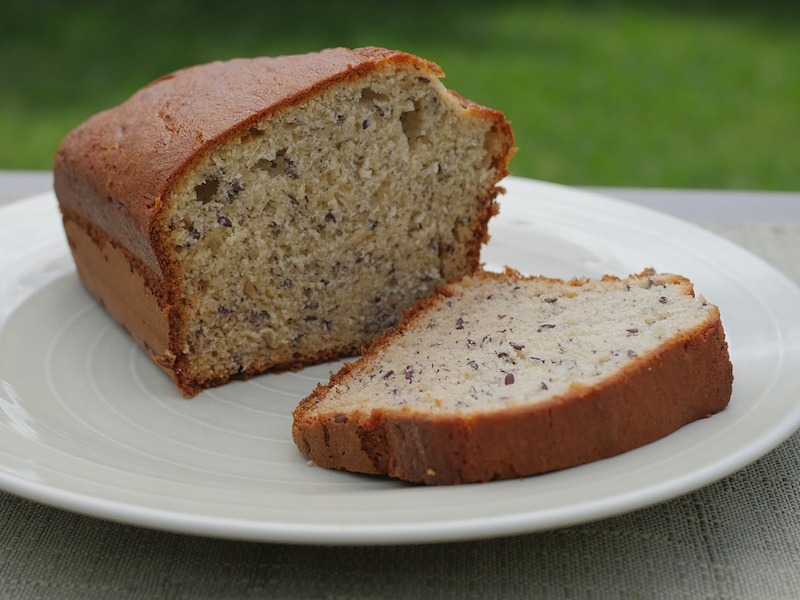 Preparation
Serving size:

Notes:

1 slice, about 1 inch or 2.5 cm thick

Temperature:

338 °F

(preheated)
Cream the softened butter, sugar and vanilla sugar.
Add the eggs one by one, whisking in between.
Combine the flour, baking powder and ground hazelnuts.
Mix the dry and wet ingredients.
Mash the bananas and add them to the dough.
Grease a loaf pan (12 in or 30 cm long) and dust it with flour.
Add the dough and bake for about an hour.
Tip: It's best to use ripe or even over-ripe bananas. So this is a great recipe if you need to use up bananas that have lots of brown spots.
% of calories by macros

| | | | |
| --- | --- | --- | --- |
| Fat | 53.5 % | 224 kcal | 25.3 g |
| Net Carbs | 38.9 % | 163 kcal | 41.5 g |
| Dietary Fiber | 1.4 % | 6 kcal | 2.8 g |
| Protein | 6.2 % | 26 kcal | 6.6 g |
Saturated Fat

11.7 g

Trans Fat

0 g

Dietary Fiber

2.8 g

Total Sugars

21.6 g

Added Sugar

17.4 g

Sugar alcohols

0 g
Vitamin A (Retinol Equivalents)

171 mcg