For the cookies

½ cup ⅜ tsp

Butter, unsalted

½ cup 1¾ tsp

Xylitol, Birch Sugar, granulated

2 (ea. 1.76 oz)

Egg, large

¼ tsp

Salt, Kosher salt, table salt

2 cups 1 tbsp

Hazelnut Flour, Filberts, partially de-oiled

3 tbsp

Coconut Flour, partially de-oiled

⅜ cup 4⅜ tsp

Cocoa powder, unsweetened

1 tsp

Baking Soda, leavening agent

¾ tsp

Carob Flour, Locust Bean Gum
For the filling

⅜ cup 2¾ tsp

Cream cheese, full fat

1 tbsp

Butter, unsalted

¼ cup 1¼ tsp

Xylitol, Birch Sugar, powdered

1 (ea. 0.04 oz)

Vanilla, pod or bean

29.41 oz

altogether (view nutrition facts)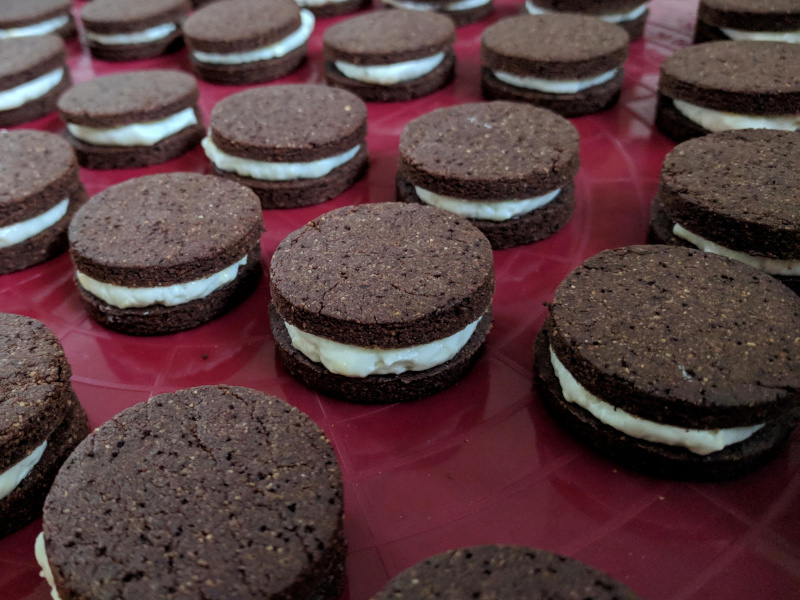 Preparation
Serving size:

Notes:

1 cookie sandwich with a diameter of 1 9/16 in (4 cm) and a height of 11/16 in (1.75 cm)

Temperature:

356 °F
Making the cookies

Cream the softened butter with the xylitol.
Add the eggs and salt and mix until well combined.
Now add the dry ingredients and mix briefly.
Knead to a dough until it comes together and is slightly flexible.
Roll out the dough between two layers of cling film to a thickness of about 1/5 in (5 mm).
Cut out circles and put on a baking tray lined with parchment paper.
Bake for about 12 minutes. The cookies are done when the edges start to darken.
Let cool completely.

Filling the cookies

Scrape out the vanilla pulp.
If you cannot get powdered xylitol, blend granulated xylitol in a food processor.
Mix the cream cheese with the softened butter, powdered xylitol and vanilla pulp.
You can of course add more xylitol, if you prefer a sweeter filling.
Using a teaspoon measure, add a dollop of filling in the center of half of the cookies.
Top each cookie with filling with another cookie and press together until the filling reaches the edges.
% of calories by macros

| | | | |
| --- | --- | --- | --- |
| Fat | 59.8 % | 52 kcal | 5.9 g |
| Net Carbs | 5.7 % | 5 kcal | 1.4 g |
| Sugar Alcohols | 12.6 % | 11 kcal | 4.6 g |
| Dietary Fiber | 4.6 % | 4 kcal | 1.8 g |
| Protein | 17.2 % | 15 kcal | 3.9 g |
Saturated Fat

3 g

Trans Fat

0 g

Dietary Fiber

1.8 g

Total Sugars

0.8 g

Added Sugar

0 g

Sugar alcohols

4.6 g
Vitamin A (Retinol Equivalents)

37.7 mcg