For the nog

2 (ea. 1.76 oz)

Egg, large

1 (ea. 0.60 oz)

Egg yolk, large

1 pinch

Salt, Kosher salt, table salt

¼ cup

Erythritol

2 cups

Almond Milk, unsweetened

1 (ea. 0.04 oz)

Vanilla, pod or bean

1 pinch

Nutmeg, ground
For the cream

¼ cup

Cream, fluid, heavy whipping, 36% fat

1½ tsp

Erythritol, powdered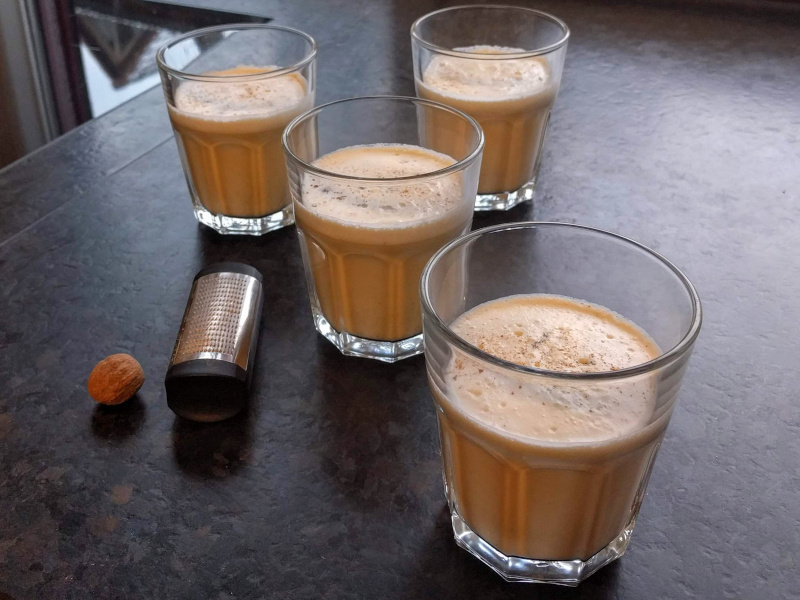 Preparation
Temperature:

165 °F
Preparing the nog

In a pot, whisk together the eggs, egg yolk, salt and erythritol.
Whisk in the almond milk.
Scrape out the vanilla pulp and add it together with the pod to the mix. Alternatively, add 2 teaspoons of vanilla extract.
On a low heat, stir the mix regularly until it reaches 165 F or 74 C. If you don't have a candy thermometer to check the temperature, go for a consistency that's thick enough to coat the back of a spoon. This will take about 20 minutes.
Remove the vanilla pod and stir in the nutmeg.
Cover with cling film and chill for at least 3 hours (up to 2 days).

Serving

Whip the cream with some powdered erythritol.
Fold the cream into the nog.
For an alcoholic version, pour 1 oz (3 cl) of liquor of your choice to a glass.
Top up with the nog and grate on some nutmeg.
% of calories by macros

| | | | |
| --- | --- | --- | --- |
| Fat | 76.4 % | 94 kcal | 10.3 g |
| Net Carbs | 4.9 % | 6 kcal | 1.6 g |
| Sugar Alcohols | 2.4 % | 3 kcal | 12.8 g |
| Protein | 16.3 % | 20 kcal | 5 g |
Saturated Fat

4.6 g

Trans Fat

0.2 g

Dietary Fiber

0.1 g

Total Sugars

0.7 g

Added Sugar

0 g

Sugar alcohols

12.8 g
Vitamin A (Retinol Equivalents)

173.5 mcg