For the dough

1¼ cups 1 tbsp

Almonds, ground

1 cup 1 tbsp

Almond Flour, partially de-oiled

11⅛ tsp

Cocoa powder, unsweetened

1 tbsp

Wheat Gluten, Vital Wheat Gluten Flour, Seitan Base

⅜ cup 4⅜ tsp

Xylitol, Birch Sugar, granulated

¼ cup

Espresso Powder

⅜ cup 1 tbsp

Butter, unsalted

1 (ea. 1.76 oz)

Egg, large

1 (ea. 0.60 oz)

Egg yolk, large

5 drops

Rum Aroma
For decorating

⅜ cup 2¼ tsp

Chocolate, dark, low-carb, 75% cacao solids, with Xylitol

1½ tsp

Coconut Oil

1 tsp

Almonds, ground

22 oz

altogether (view nutrition facts)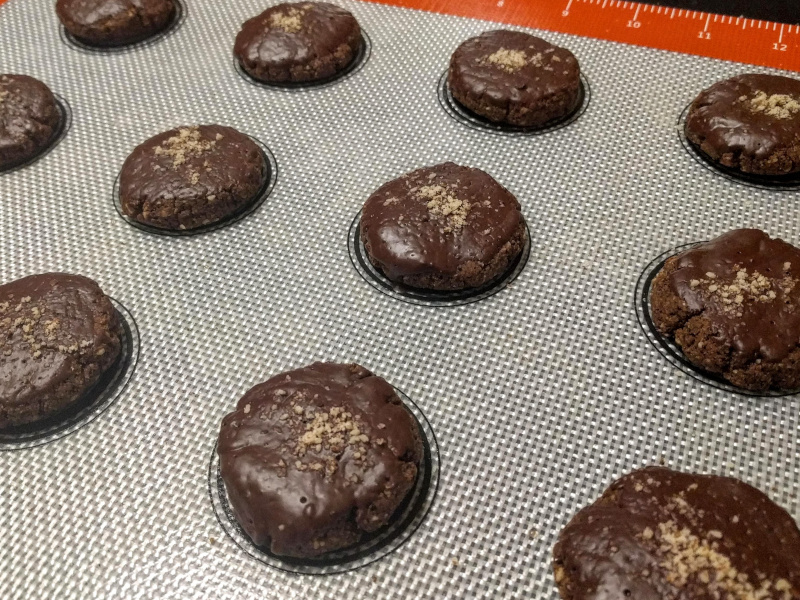 Preparation
Serving size:

Notes:

1 cookie with a diameter of about 2 in (5 cm) and a thickness of about 3/8 in (1 cm)

Temperature:

302 °F
#Baking the cookies
Mix all the dry ingredients.
In a separate bowl, whisk the softened butter with the egg, egg yolk and rum aroma until they're well combined.
Now add one third of the dry ingredients, mix, add another third, mix, then the rest and mix.
You will get a dense dough.
Using a tablespoon measure, portion out the dough.
Roll each tablespoon portion of dough into a ball and press flat to a thickness of about 3/8 in (1 cm).
Place each cookie on a baking tray lined with parchment paper.
Bake for about 15 minutes.
Let cool completely.

Decorating the cookies

Melt the chocolate and mix in the coconut oil.
Brush some chocolate on each cookie, then sprinkle with ground almonds.
Let dry completely.
% of calories by macros

| | | | |
| --- | --- | --- | --- |
| Fat | 67.1 % | 53 kcal | 6 g |
| Net Carbs | 3.8 % | 3 kcal | 0.7 g |
| Sugar Alcohols | 10.1 % | 8 kcal | 3.3 g |
| Dietary Fiber | 3.8 % | 3 kcal | 1.6 g |
| Protein | 15.2 % | 12 kcal | 3 g |
Saturated Fat

2.5 g

Trans Fat

0 g

Dietary Fiber

1.6 g

Total Sugars

0.4 g

Added Sugar

0 g

Sugar alcohols

3.3 g
Vitamin A (Retinol Equivalents)

23.2 mcg