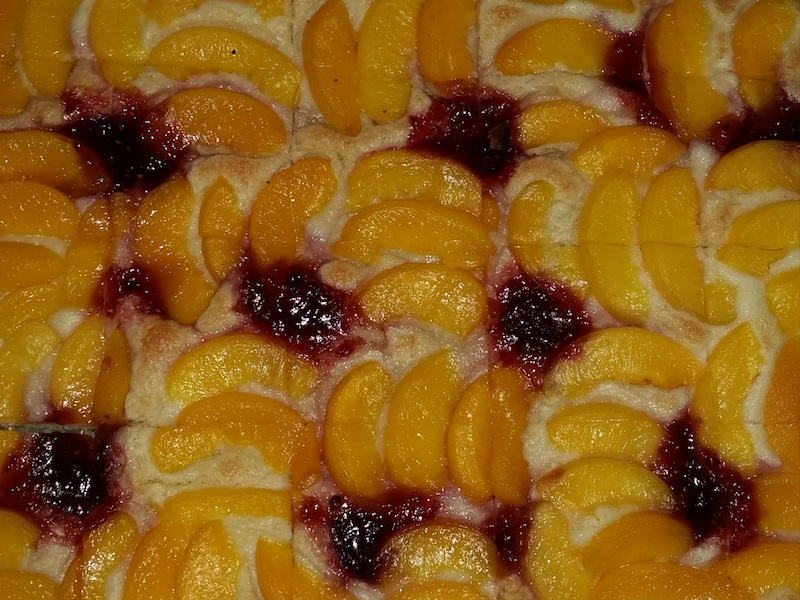 Preparation
Temperature:

356 °F

(for about 40 minutes)
1. Mix all the ingredients for the peach pie except the peaches into a batter.
2. Prepare the peaches: Peaches, without stone, fresh or canned peaches .Drain the peaches well and cut them into thin slices.
3. Spread the dough on a baking sheet covered with baking paper and top with peaches.
4. Place a single blob of jam between the peaches.
5. Bake it and enjoy it!
% of calories by macros

| | | | |
| --- | --- | --- | --- |
| Fat | 35.9 % | 70 kcal | 8 g |
| Net Carbs | 55.4 % | 108 kcal | 27.7 g |
| Sugar Alcohols | 1.0 % | 2 kcal | 0.7 g |
| Dietary Fiber | 2.1 % | 4 kcal | 2.2 g |
| Protein | 5.6 % | 11 kcal | 2.7 g |
Saturated Fat

0.8 g

Trans Fat

0 g

Dietary Fiber

2.2 g

Total Sugars

15.9 g

Added Sugar

12.2 g

Sugar alcohols

0.7 g
Vitamin A (Retinol Equivalents)

10.5 mcg