Dough

4⅞ cups 1 tbsp

Spelt flour, white (type 630)

¼ cup 1 tbsp

Sugar, white, granulated

1 tbsp

Salt, Kosher salt, table salt

1¾ tsp

Yeast, active dry, leavening agent

2 tbsp

Oil, Grapeseed

1 cup 1 tbsp

Tap Water
Filling

2⅔ cups

Currants, red, raw

½ cup

Sugar, white, granulated

⅔ cup 2 tsp

Cream cheese, nonfat

1 tbsp

Corn starch, maize starch

51.95 oz

altogether (view nutrition facts)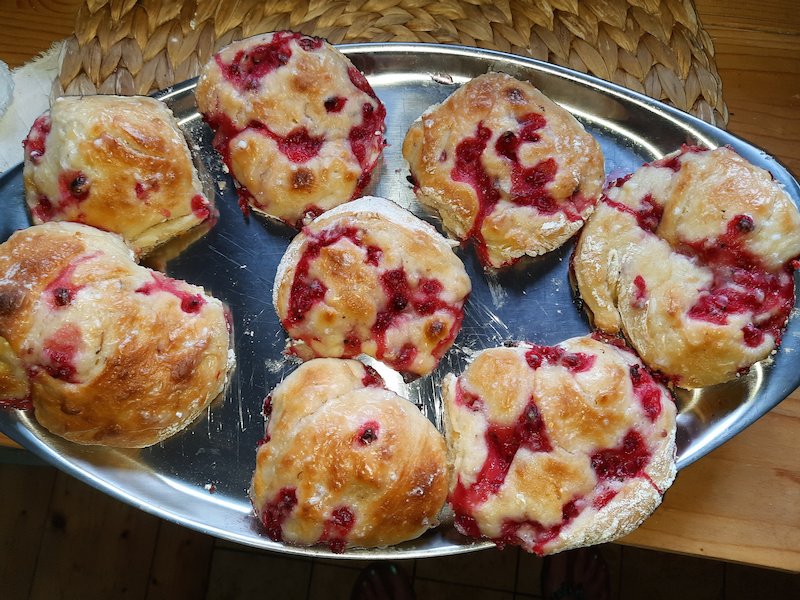 Preparation
Temperature:

302 °F
Put the flour in a bowl together with the sugar and salt.
Make a hollow in the middle and sprinkle the yeast. Add the oil on the rim.
Now pour the water into the bowl and slowly stir in the yeast with a wooden spoon and also the flour. Until a firm yeast dough is formed.
The dough must now rest until it has doubled.
In the meantime, mix the currants with the sugar and put it away.
Mix the cream cheese with the sugar and the starch and stir until smooth.
As soon as the dough has grown sufficiently, roll it out into a rectangle on a work surface covered with baking paper and well floured.
Spread the cream cheese on top and sprinkle with the currants.
If you don't want to roll snails now, you can bake the cake already now.
Otherwise roll up the dough from the wide side and cut off approx. 3 cm wide slices and put them on a baking tray covered with baking paper.

Baking time

Bake for about 20 minutes at 150 º C or until the snails have turned a golden brown color.
% of calories by macros

| | | | |
| --- | --- | --- | --- |
| Fat | 11.3 % | 17 kcal | 1.8 g |
| Net Carbs | 73.3 % | 110 kcal | 27 g |
| Dietary Fiber | 2.0 % | 3 kcal | 1.7 g |
| Protein | 13.3 % | 20 kcal | 5 g |
Saturated Fat

0.2 g

Trans Fat

0 g

Dietary Fiber

1.7 g

Total Sugars

10 g

Added Sugar

8.1 g

Sugar alcohols

0 g
Vitamin A (Retinol Equivalents)

1.4 mcg