For the muffins

½ cup 1⅜ tsp

Butter, unsalted

⅜ cup 3⅝ tsp

Sugar, white, granulated

2 tsp

Vanilla Sugar

2 (ea. 1.76 oz)

Egg, large

2 cups 1 tbsp 1 tsp

Wheat flour, white, pastry flour

1½ tsp

Baking Powder, leavening agent, low-sodium

½ cup ⅜ tsp

Milk, whole, 3.25% fat

4½ cups 1 tbsp

Apples, without skin, peeled, sliced
For the streusel

⅓ cup

Butter, unsalted

⅚ cup

Wheat flour, white, pastry flour

¼ cup 2⅜ tsp

Sugar, white, granulated

2 tsp

Vanilla Sugar

½ tsp

Cinnamon, ground

50.94 oz

altogether (view nutrition facts)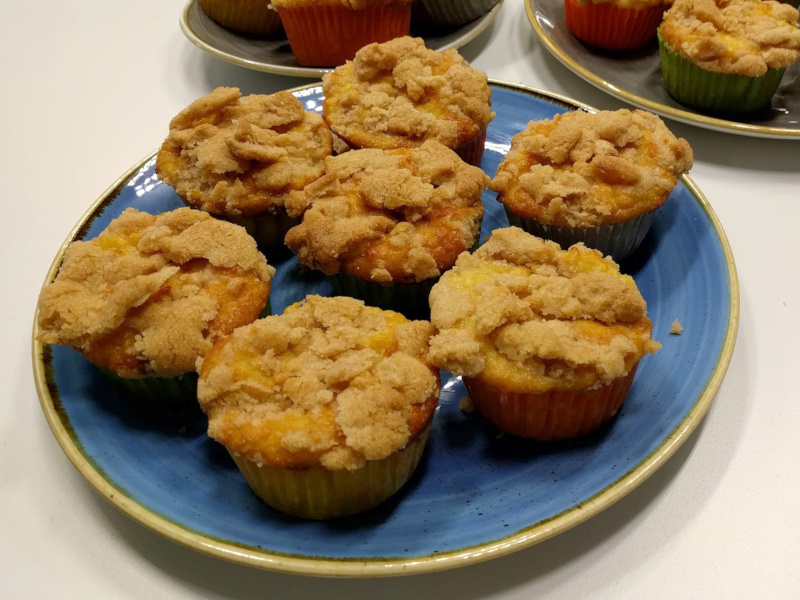 Preparation
Temperature:

347 °F

(preheated)
Preparing the muffins

Cream the butter, sugar and vanilla sugar.
Add the eggs one by one, whisking in between.
Combine the flour and the baking powder.
Add half of the dry ingredients, then the milk and then the rest of the dry ingredients, whisking in between until smooth.
Peel and dice the apples and add fold them into the dough.

Preparing the streusel

Melt the butter.
Combine the dry ingredients: flour, sugar, vanilla sugar, cinnamon.
Add the butter to the dry ingredients and mix together.

Baking the muffins

Insert muffin liners into a muffin pan and fill them with the dough. You can also use silicone baking cups.
Cover the muffins with the crumbled dough.
Bake for about 20 to 25 minutes.
Tip: You can also use this recipe for a cake. Just keep it in the oven longer, for about 45 minutes.
% of calories by macros

| | | | |
| --- | --- | --- | --- |
| Fat | 42.4 % | 131 kcal | 14.7 g |
| Net Carbs | 50.5 % | 156 kcal | 39 g |
| Dietary Fiber | 1.3 % | 4 kcal | 1.8 g |
| Protein | 5.8 % | 18 kcal | 4.6 g |
Saturated Fat

8.7 g

Trans Fat

0 g

Dietary Fiber

1.8 g

Total Sugars

18.8 g

Added Sugar

13.9 g

Sugar alcohols

0 g
Vitamin A (Retinol Equivalents)

130.4 mcg