| | | |
| --- | --- | --- |
| | | |
| | ⅚ cup | Pumpkin Seeds, dried, ground |
| | 2⅛ cups | Almond Flour, partially de-oiled |
| | ⅜ cup 4⅜ tsp | Xylitol, Birch Sugar, granulated |
| | 1 tsp | Cream of Tartar, Weinstein baking powder, gluten-free leavening agent |
| | ¾ cup 1 tsp | Butter, unsalted |
| | 2 (ea. 0.60 oz) | Egg yolk, large |
| | 1 (ea. 0.04 oz) | Vanilla, pod or bean |
| | 1 tsp | Xylitol, Birch Sugar, powdered |
| | 21.75 oz | altogether (view nutrition facts) |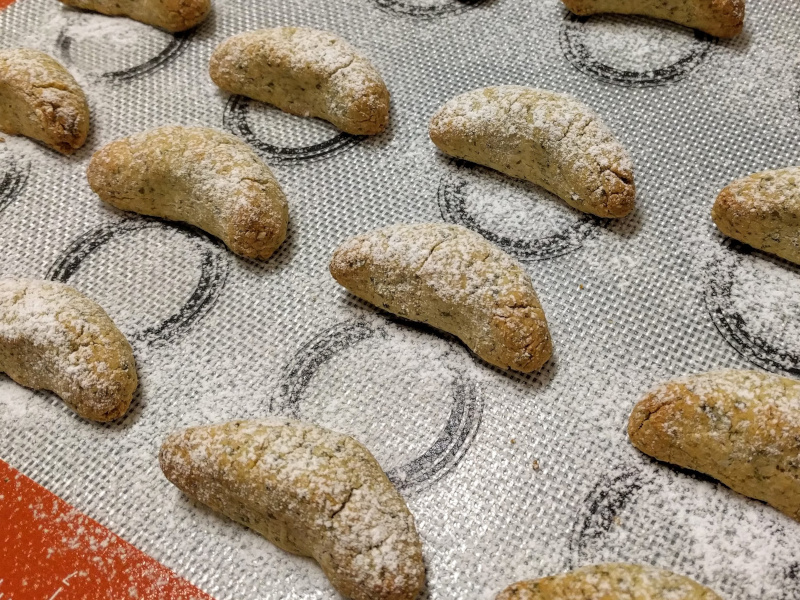 Preparation
Serving size:

Notes:

1 cookie, about 1 tablespoon worth of dough

Temperature:

356 °F
Preparing the dough

If you can only get whole pumpkin seeds, grind them with a food processor as finely as you can. 4/5 cup with yield the required 5/6 cup for 32 servings.
In a bowl, mix the ground pumpkin seeds with the almond flour, granulated xylitol and baking powder.
In a separate bowl, cream the softened butter with the egg yolks.
Scrape out the vanilla pulp and mix it in.
Now add the dry ingredients bit by bit, mixing in between.
Knead the dough to bring it together.
Form a roll, wrap it in cling film and rest in the fridge for 2 hours.

Baking the cookies

Cut the roll into slices to get portions of about 1 tablespoon of dough. I like to repeatedly cut the roll in half for this.
Form each portion into a crescent shape.
Put the cookies on a tray lined with parchment paper.
Bake for about 10 minutes. The cookies are done when the tips start to brown.
Let cool completely and dust with powdered xylitol.
% of calories by macros

| | | | |
| --- | --- | --- | --- |
| Fat | 67.4 % | 62 kcal | 7.1 g |
| Net Carbs | 3.3 % | 3 kcal | 0.7 g |
| Sugar Alcohols | 7.6 % | 7 kcal | 3.2 g |
| Dietary Fiber | 2.2 % | 2 kcal | 1.2 g |
| Protein | 19.6 % | 18 kcal | 4.5 g |
Saturated Fat

3.2 g

Trans Fat

0 g

Dietary Fiber

1.2 g

Total Sugars

0.5 g

Added Sugar

0 g

Sugar alcohols

3.2 g
Vitamin A (Retinol Equivalents)

41.7 mcg