| | | |
| --- | --- | --- |
| | | |
| | 8½ tsp | Butter, unsalted |
| | 1½ cups 1 tbsp 1 tsp | Almonds, ground |
| | 3 tbsp | Xylitol, Birch Sugar, granulated |
| | 0.50 (ea. 0.04 oz) | Vanilla, pod or bean |
| | 1 (ea. 1.76 oz) | Egg, large |
| | ¼ cup 2 tsp | Chocolate, dark, low-carb, 75% cacao solids, with Xylitol |
| | 11.66 oz | altogether (view nutrition facts) |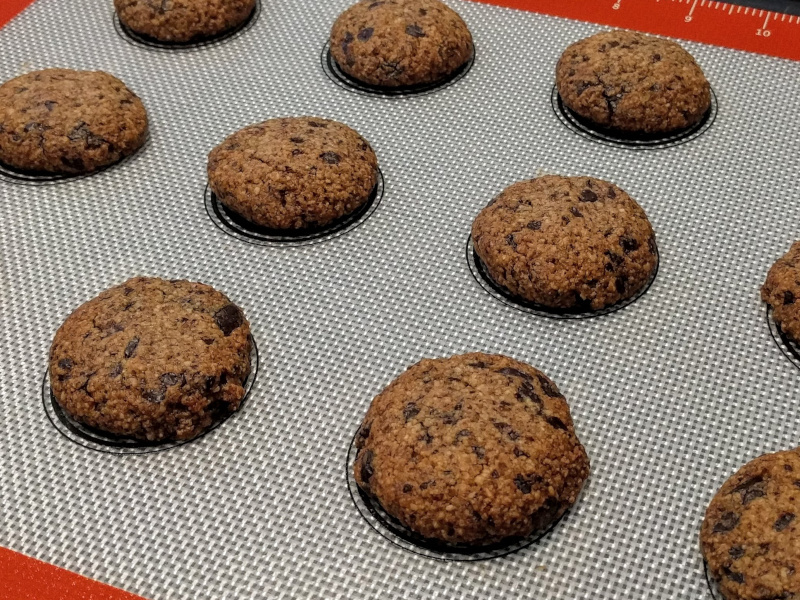 Preparation
Serving size:

Notes:

1 cookie with a diameter of about 2 in (5 cm)

Temperature:

302 °F
Melt the butter and let it cool down.
Scrape out the vanilla pulp and mix it with the still fluid butter.
Mix the ground almonds and xylitol.
Add the butter and egg and mix together with a spoon.
Finally, stir in the chopped chocolate.
Line a baking tray with parchment paper.
Using a tablespoon measure, scoop out some dough and put it on the parchment paper.
With damp hands, form the portioned out dough to balls.
Space out on the baking tray and press on the balls to flatten them slightly.
Bake for about 25 minutes. The cookies are done when the edges start to brown.
Let cool completely and enjoy. If you can't resist, they're of course also yummy warm.
% of calories by macros

| | | | |
| --- | --- | --- | --- |
| Fat | 75.3 % | 64 kcal | 7.2 g |
| Net Carbs | 4.7 % | 4 kcal | 0.9 g |
| Sugar Alcohols | 7.1 % | 6 kcal | 2.7 g |
| Dietary Fiber | 2.4 % | 2 kcal | 1.2 g |
| Protein | 10.6 % | 9 kcal | 2.2 g |
Saturated Fat

2.2 g

Trans Fat

0 g

Dietary Fiber

1.2 g

Total Sugars

0.4 g

Added Sugar

0 g

Sugar alcohols

2.7 g
Vitamin A (Retinol Equivalents)

18.6 mcg