For the meat

1½ lb

Beef Loin, Fillet, Tenderloin Steak, trimmed, raw

1 tbsp

Lard, rendered pork fat
For the sauce

⅚ cup ⅝ tsp

Beef broth, stock

3 tbsp

Cream, fluid, light whipping, 30% fat

2 tbsp

Butter, unsalted

34.34 oz

altogether (view nutrition facts)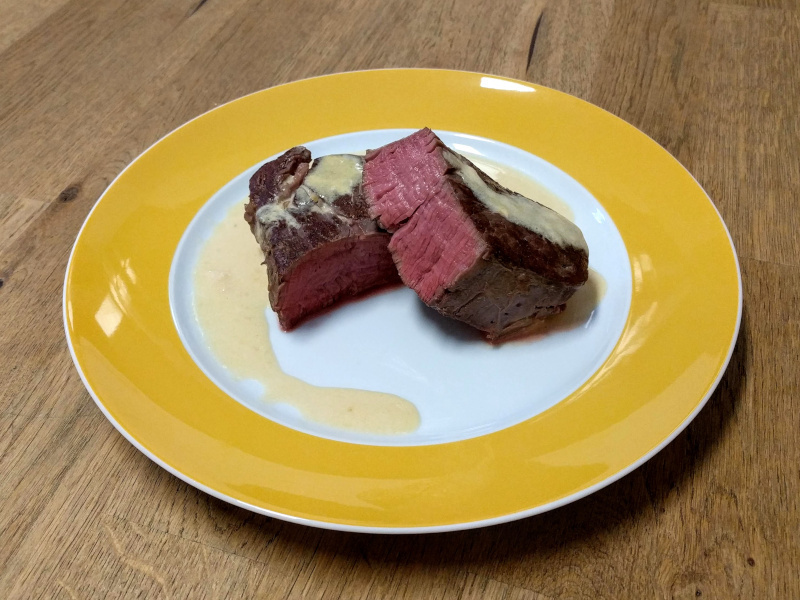 Preparation
Serving size:

Notes:

1 tenderloin steak
Sous-vide

Fill a pot with water and heat the desired temperature. If you don't have a sous-vide machine, use a thermometer to control the heat. It's best to keep it in the pot to ensure the temperature doesn't vary much throughout the cooking period.
For medium rare, heat it to 55°C or 131 °F. For rare meat, heat it to 49°C or 120 °F.
Cut the tenderloin into individual portions. We recommend slices about 2 inches (5 cm) thick.
Season with salt and pepper.
Put the pieces into individual ziplock bags. Partially suspend them in water, so that the air is pressed out of the ziplock bags. Then close the ziplock bags. It's important no water gets into the bags. If this does happen, simply remove the meat, dry it and the bag and try again.
Put in the water bath. As the ziplock bags might not be 100% watertight, we recommend you tape them to a cooking spoon and suspend them in the water.
Keep in the water bath for at least 1 1/2 hours. The meat will not overcook if you keep it in longer. However, if you are adding larger pieces of meat, you may need to increase the cooking time.

Sauce

Remove the meat from the ziplock bags and dry them off. Let rest.
Now boil the stock on a medium to high heat. Reduce it for about 10 minutes.
Add the cream and butter, reduce the heat and simmer for a couple of minutes.
Remove from the heat while you sear the meat.

Searing the meat

On high heat, melt some lard in a steel pan.
Add the dry meat and sear it for about 30 seconds on each side. Also sear the sides.
Top with the sauce and enjoy.
% of calories by macros

| | | | |
| --- | --- | --- | --- |
| Fat | 56.9 % | 203 kcal | 22.7 g |
| Net Carbs | 0.6 % | 2 kcal | 0.4 g |
| Protein | 42.6 % | 152 kcal | 38 g |
Saturated Fat

10.6 g

Trans Fat

0.5 g

Dietary Fiber

0 g

Total Sugars

0.4 g

Added Sugar

0 g

Sugar alcohols

0 g
Vitamin A (Retinol Equivalents)

86.7 mcg