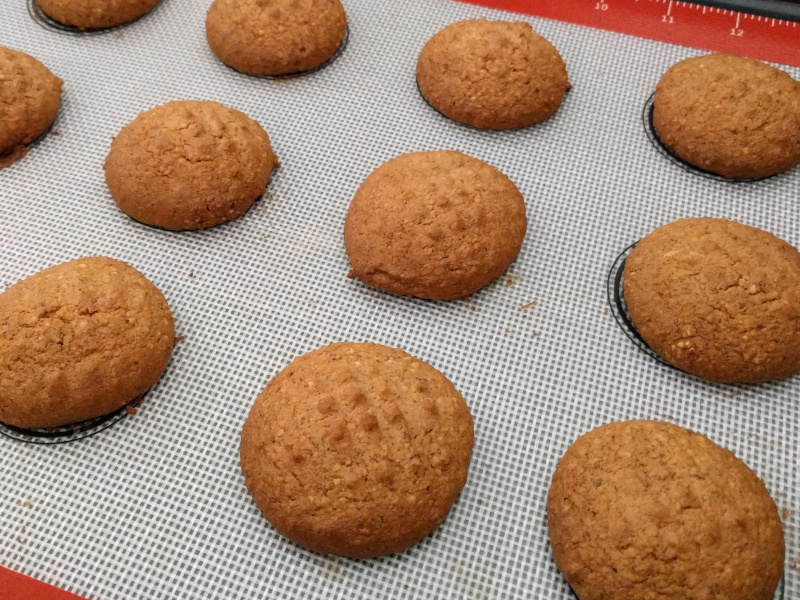 Preparation
Serving size:

Notes:

1 cookie with a diameter of about 2 1/8 in (5.5 cm) and a thickness of about 1/2 in (1.25 cm)

Temperature:

356 °F
Whisk the peanut butter until it is soft.
Add the erythritol and the egg and whisk for a couple of minutes. The mix should visibly lighten in color.
Add the remaining ingredients and mix together. You will get a very sticky dough.
Line a baking tray with parchment paper.
Form balls from about 1 tablespoon of dough and put them on the baking tray. Leave a bit of space between each ball of dough.
Tip: I first portion out all the dough with a tablespoon measure, scooping out the dough with a small spoon. Then I dampen my hands and quickly roll the dough into balls. Like this your hands only get sticky once.
Press on the balls horizontally and vertically to flatten them and give them a checked pattern.
Bake for 15 minutes. The cookies are done when the top starts to brown.
Let cool completely and enjoy.
% of calories by macros

| | | | |
| --- | --- | --- | --- |
| Fat | 71.4 % | 45 kcal | 5.1 g |
| Net Carbs | 6.3 % | 4 kcal | 0.9 g |
| Sugar Alcohols | 1.6 % | 1 kcal | 3.1 g |
| Dietary Fiber | 3.2 % | 2 kcal | 1 g |
| Protein | 17.5 % | 11 kcal | 2.8 g |
Saturated Fat

0.6 g

Trans Fat

0 g

Dietary Fiber

1 g

Total Sugars

0.5 g

Added Sugar

0 g

Sugar alcohols

3.1 g
Vitamin A (Retinol Equivalents)

6.2 mcg