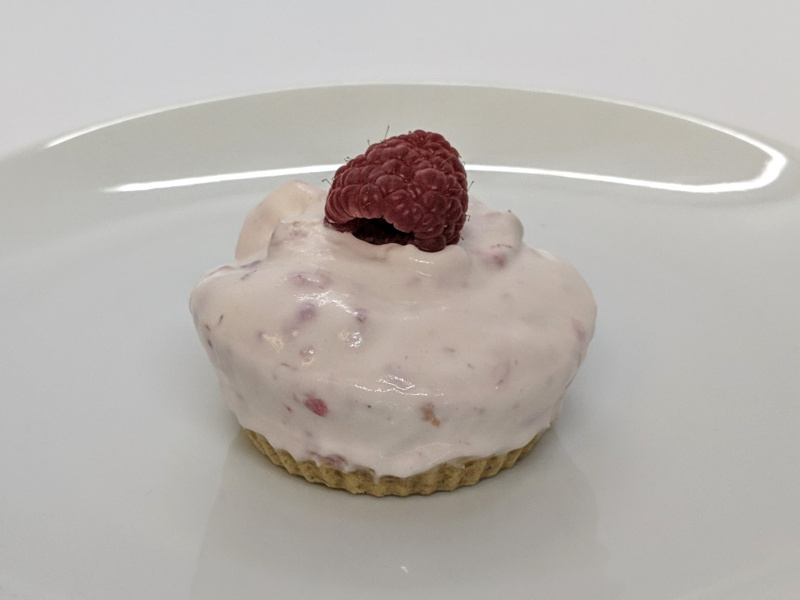 Preparation
Serving size:

Notes:

1 cheesecake muffin; sufficient as a dessert
Melt the butter and mix it with the almond flour.
Line a muffin tin and divide the crust equally, about 1 tablespoon each.
Press the crust into the tin with the back of a spoon.
Top with 1/4 cup of raspberry cheesecake fluff each.
Put in the freezer for 45 minutes to an hour.
Then carefully remove the liners and serve garnished with a raspberry.
% of calories by macros

| | | | |
| --- | --- | --- | --- |
| Fat | 78.6 % | 143 kcal | 16 g |
| Net Carbs | 4.9 % | 9 kcal | 2.4 g |
| Sugar Alcohols | 4.9 % | 9 kcal | 3.8 g |
| Dietary Fiber | 1.6 % | 3 kcal | 1.5 g |
| Protein | 9.9 % | 18 kcal | 4.7 g |
Saturated Fat

9.4 g

Trans Fat

0 g

Dietary Fiber

1.5 g

Total Sugars

2 g

Added Sugar

0 g

Sugar alcohols

3.8 g
Vitamin A (Retinol Equivalents)

135.5 mcg