For the stir-fry

12.35 oz

Tofu, smoked

1 tbsp

Sesame Oil

1 cup 1 tbsp 2 tsp

Broccoli, raw

¾ cup 2 tsp

Mushrooms, Champignon, Crimini, Button, Portobello, raw

For the sauce

3 tbsp

Almond Butter

1½ tsp

Tamari, Japanese soy sauce, gluten-free

1 tbsp

Sesame Oil

1 tsp

Lime juice, fresh cold-pressed

1 tsp

Chili Pepper, Chile, Pepperoni, red, raw

1 tsp

Almonds, slivered

21.11 oz

altogether (view nutrition facts)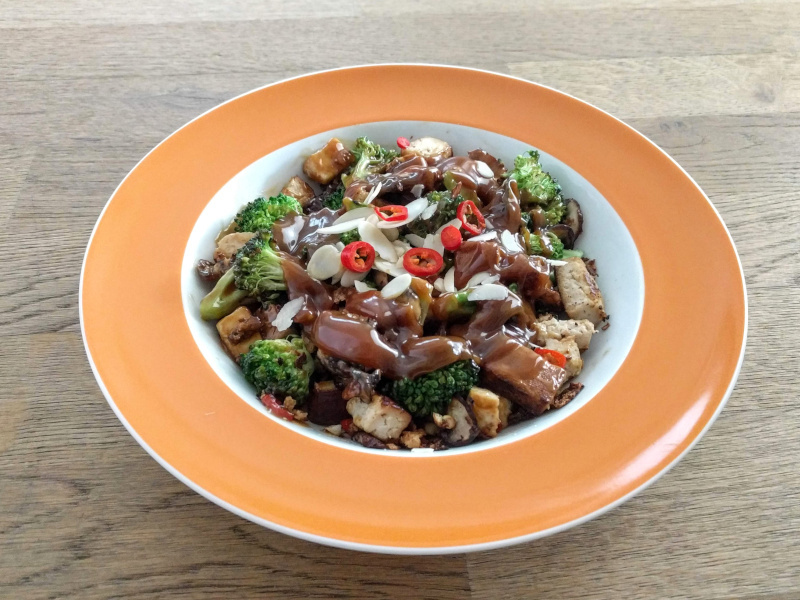 Preparation
Serving size:

Notes:

sufficient as a main meal
Pat the tofu dry and cut it in cubes.
Heat some sesame oil in a pan and fry the tofu on a medium heat.
Then add the broccoli, mushrooms, chopped garlic and sliced chili and fry until the vegetables to begin to soften.
Mix the wet ingredients for the sauce.
Add about 2/3 of the sauce to the tofu and vegetables and toss.
Plate, top with the remaining sauce and sprinkle with the sliced chili and the slivered almonds, about 1/2 tsp each per serving.

Meal Prep Tip

You can store the dish in an airtight container for 5 days in the fridge or up to 6 months in the freezer. For best results, thaw overnight. Reheat in the microwave or on the stovetop.
% of calories by macros

| | | | |
| --- | --- | --- | --- |
| Fat | 66.6 % | 351 kcal | 40 g |
| Net Carbs | 5.7 % | 30 kcal | 7.7 g |
| Dietary Fiber | 2.8 % | 15 kcal | 7.7 g |
| Protein | 24.9 % | 131 kcal | 33 g |
Saturated Fat

5.1 g

Trans Fat

0 g

Dietary Fiber

7.7 g

Total Sugars

4.4 g

Added Sugar

0 g

Sugar alcohols

0 g
Vitamin A (Retinol Equivalents)

16.3 mcg