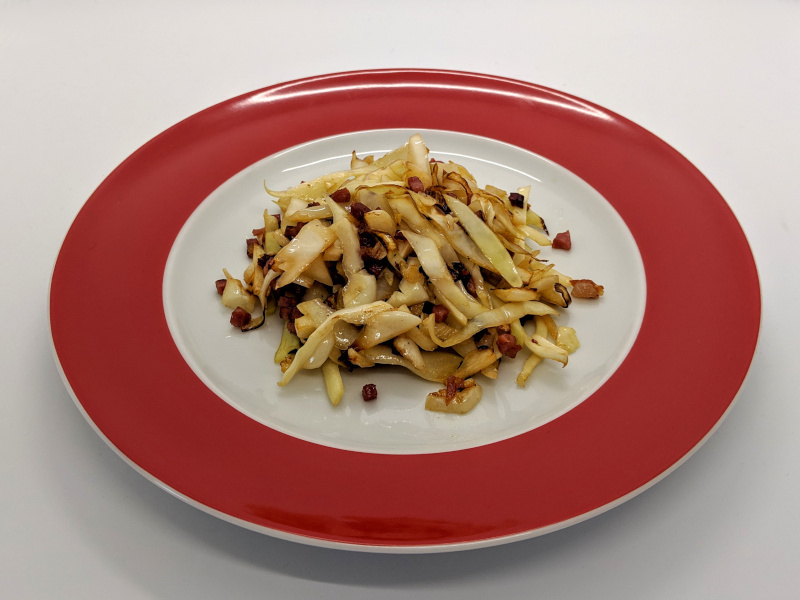 Preparation
Serving size:

¾ cup (by recipe creator)

Notes:

sufficient as a side
Melt the butter in a large pan over medium heat.
Add the chopped bacon and cook it until it starts to brown, about 5 minutes.
Add the cabbage and vinegar and cook until the cabbage starts to soften, about 10 minutes. The cabbage should still have a bit of crunch.
Season to taste. We like to add caraway seeds or chilli for a bit of spice.
% of calories by macros

| | | | |
| --- | --- | --- | --- |
| Fat | 80.6 % | 141 kcal | 15.6 g |
| Net Carbs | 7.4 % | 13 kcal | 3.2 g |
| Dietary Fiber | 2.3 % | 4 kcal | 2.2 g |
| Protein | 9.7 % | 17 kcal | 4.3 g |
Saturated Fat

7 g

Trans Fat

0 g

Dietary Fiber

2.2 g

Total Sugars

3 g

Added Sugar

?

Sugar alcohols

0 g
Vitamin A (Retinol Equivalents)

52.8 mcg