For the dough

⅔ cup

Butter, unsalted

⅞ cup 2 tsp

Hazelnut Flour, Filberts, partially de-oiled

1½ cups 1 tbsp 2 tsp

Hazelnuts, filberts, ground

¼ cup 3⅝ tsp

Xylitol, Birch Sugar, granulated

2 (ea. 0.60 oz)

Egg yolk, large

2 tsp

Orange zest, peel
For decorating

0.50 (ea. 1.16 oz)

Egg white, large

6¼ tsp

Hazelnuts, filberts, chopped

18.68 oz

altogether (view nutrition facts)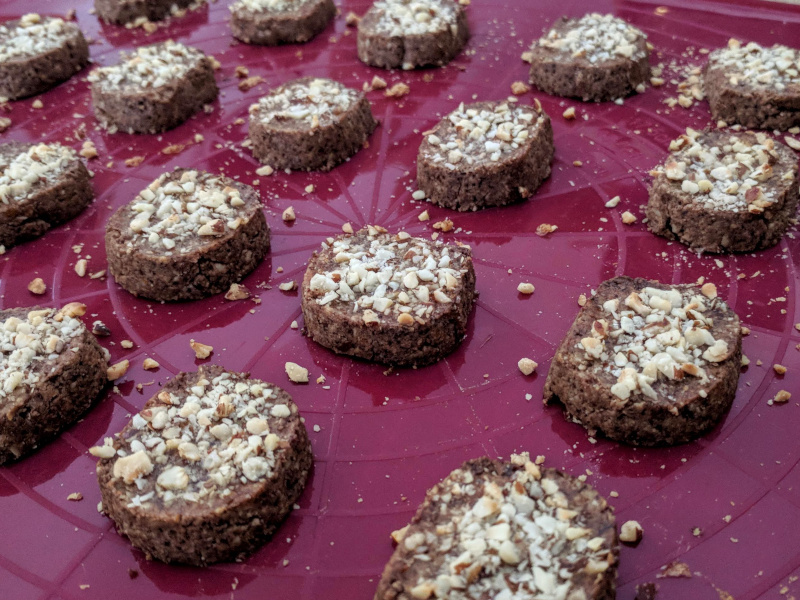 Preparation
Serving size:

Notes:

1 cookie with a diameter of about 1 1/2 in (3.75 cm) and a thickness of about 3/8 in (1 cm)

Temperature:

320 °F
Preparing the dough

Melt the butter in a pan and heat it until it starts to browns. Let cool.
Mix the remaining ingredients in a bowl and add the cooled down, still fluid butter.
Form a roll with a diameter of about 1 1/2 in (3.75 cm) and wrap in cling film.
Rest in the fridge for 4 hours. You can also leave it in the fridge overnight.

Baking and decorating the cookies

Cut the roll of dough in slices with a thickness of about 3/8 in (1 cm).
Lay on a baking tray lined with parchment paper.
Slightly whisk the egg white and stroke it on the cookies.
Top with chopped hazelnuts and press them in gently.
Bake for about 12 minutes. The cookies are done when the edges start to brown.
% of calories by macros

| | | | |
| --- | --- | --- | --- |
| Fat | 78.4 % | 29 kcal | 3.3 g |
| Net Carbs | 2.7 % | 1 kcal | 0.3 g |
| Sugar Alcohols | 5.4 % | 2 kcal | 1 g |
| Dietary Fiber | 2.7 % | 1 kcal | 0.5 g |
| Protein | 10.8 % | 4 kcal | 1.1 g |
Saturated Fat

1.2 g

Trans Fat

0 g

Dietary Fiber

0.5 g

Total Sugars

0.2 g

Added Sugar

0 g

Sugar alcohols

1 g
Vitamin A (Retinol Equivalents)

16.2 mcg