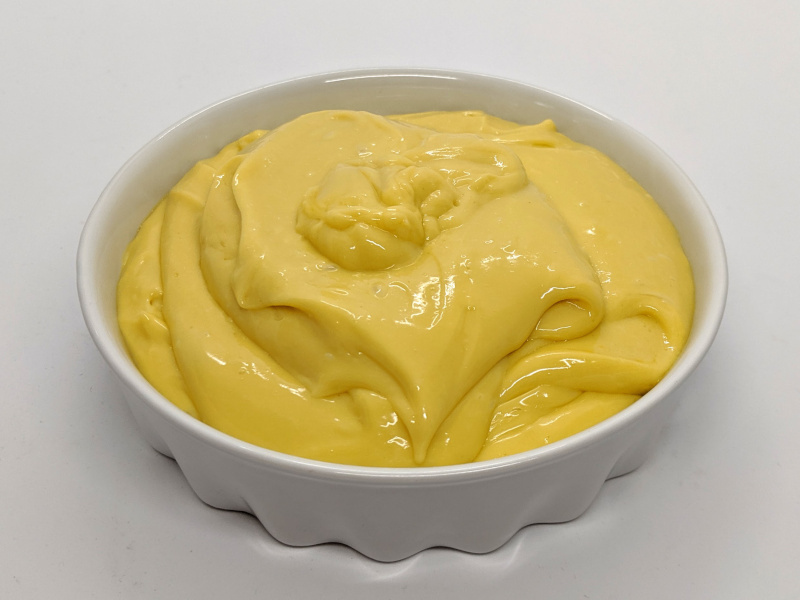 Recipes that use this food
Preparation
Serving size:

1 tsp (by recipe creator)
Using an immersion blender, combine the egg yolks, lemon juice, vinegar, salt and mustard. Blend for about half a minute.
Slowly drizzle in the avocado oil while blending throughout. you need to stream it in slowly, else the mayonnaise may split.
Transfer to an airtight container and refrigerate for up to 5 days (provided you used fresh eggs).

If the mayo breaks

If you added the oil too quickly, or too much of it, it will split and break, i.e. turn liquid.
You can still save it.
First, whisk into the broken mayo a little hot water, no more than 1 teaspoon per egg yolk.
Now take a fresh egg yolk and while whisking it, very slowly drizzle in your broken mayo.
As the mayo starts to thicken, continue drizzling in the broken mayo until it is fully combined.
Saturated Fat

0.5 g

Trans Fat

0 g

Dietary Fiber

0 g

Total Sugars

0 g

Added Sugar

0 g

Sugar alcohols

0 g
Vitamin A (Retinol Equivalents)

3 mcg