| | | |
| --- | --- | --- |
| | | |
| | ⅛ tsp | Olive Oil |
| | ¾ tsp | Onions, white or yellow, raw, chopped |
| | ¼ cup ⅝ tsp | Tomatoes, red, canned, in tomato juice, no salt added |
| | 0.25 (ea. 0.11 oz) | Garlic, raw |
| | 0.13 pinch | Salt, Kosher salt, table salt |
| | 0.13 pinch | Pepper, black, ground |
| | 2.36 oz | altogether (view nutrition facts) |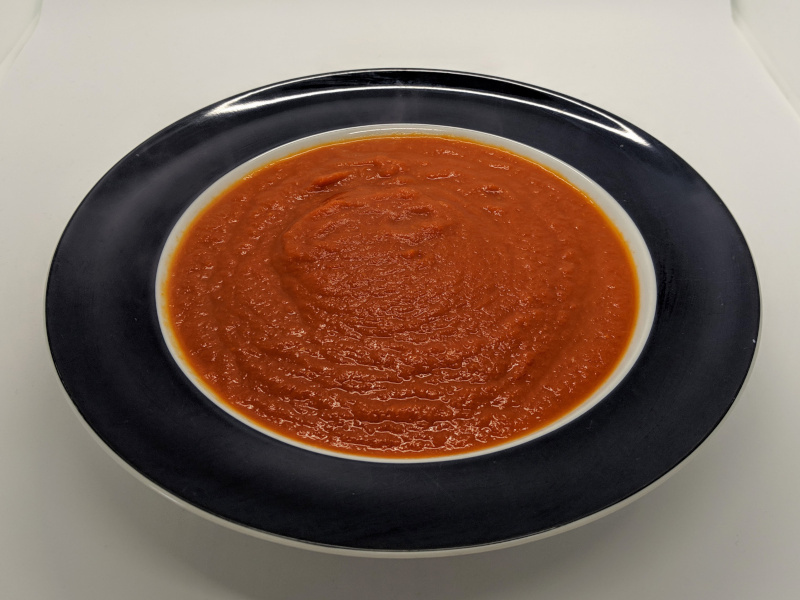 Preparation
Serving size:

Notes:

sufficient for a plate of pasta
In a pot over medium heat, saute the chopped onion until it is translucent, about 2 to 3 minutes.
Add the tomatoes, cover with a lid and bring to a simmer.
Reduce the heat to low and let simmer for about 20 minutes.
Add the minced garlic and blend with an immersion blender or a food processor.
Continue to simmer, at least 20 minutes. The taste is even better if you let it simmer for a couple of hours.
Season to taste.

Meal Prep Tip

You can easily store this sauce in an airtight container for 5 days, or freeze it for up to 6 months. For best results, thaw overnight. Reheat in the microwave or on the stovetop.
% of calories by macros

| | | | |
| --- | --- | --- | --- |
| Fat | 35.3 % | 6 kcal | 0.7 g |
| Net Carbs | 41.2 % | 7 kcal | 2 g |
| Dietary Fiber | 11.8 % | 2 kcal | 1.3 g |
| Protein | 11.8 % | 2 kcal | 0.6 g |
Saturated Fat

0.1 g

Trans Fat

0 g

Dietary Fiber

1.3 g

Total Sugars

1.7 g

Added Sugar

0 g

Sugar alcohols

0 g
Vitamin A (Retinol Equivalents)

13.9 mcg